FINE PAINTS OF EUROPE
TJ Painting is a Fine Paints of Europe Certified Painter in the Harding Township, NJ area.
Started in 1987, Fine Paints of Europe provides the finest paints and personalized service to discriminating homeowners, paint professionals, and the architectural and design community. Fine Paints of Europe coatings are sold by reputable, independently owned paint retailers.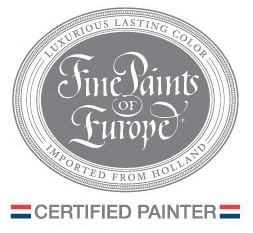 Fine Paints of Europe established the Certified Painting Contractor Program intended to provide clients with a source of carefully trained contractors familiar with our coatings and experienced in their application — contractors whose quality of work they can recommend in confidence. TJ Painting is a certified Fine Paints of Europe contractor.
Certified Contractors must be nominated by a local Fine Paints retailer and confirmed to us to be a professional of good character who has worked with our paints for at least five years. Certified Contractors must attend a weekend training session in Woodstock, Vermont where they were formally introduced to each of our paint families and best application techniques Certified Painting Contractors recognize that their continued certification requires them to provide Fine Paints of Europe clients with first quality work at a fair price. Fine Paints of Europe highly recommends using one of their Approved Contractors, who are all true trained professionals.
Applications For Fine Paints Of Europe
Front Doors
Fine Woodwork
Ceilings
Kitchen Cabinets
Fine Furniture
Built-Ins / Vanities
Handrails